As we approach Halloween, we want to help parents pick costumes which are safer (nothing is completely safe) in terms of flammability. You now need to look out for an extra safety label on Halloween costumes which proves they have undergone extra flammability testing. This is great news – we have all heard awful stories about children's costumes being set alight in a millisecond.
LOOK OUT FOR THE LABEL
Let's be clear – this doesn't mean other costumes without the extra safety label aren't safe but they won't have been through as rigorous testing. I know as well as anyone what it's like to be a busy working parent literally doing a supermarket sweep of the Halloween/Christmas/Easter aisle (take your pick). However taking a few extra minutes to check out the labels literally can save your child from the most horrendous burns.
So what does this new label actually mean and what do you need to look out for? The British Retail Consortium (BRC) have introduced two voluntary codes of practice which go beyond the current testing standard. The UK's three largest costume designers have signed up to putting their costumes through these additional flammability tests. So here is what you are looking out for when buying a costume (take a screen shot of this bit for when you go shopping) and we've included some example tags as well:
The extra label will say 'Warning! Keep away from fire' and 'Keep away from lit candles and naked flames' or other similar wording. Companies can also choose to add: 'This garment has undergone additional safety testing for flammability'.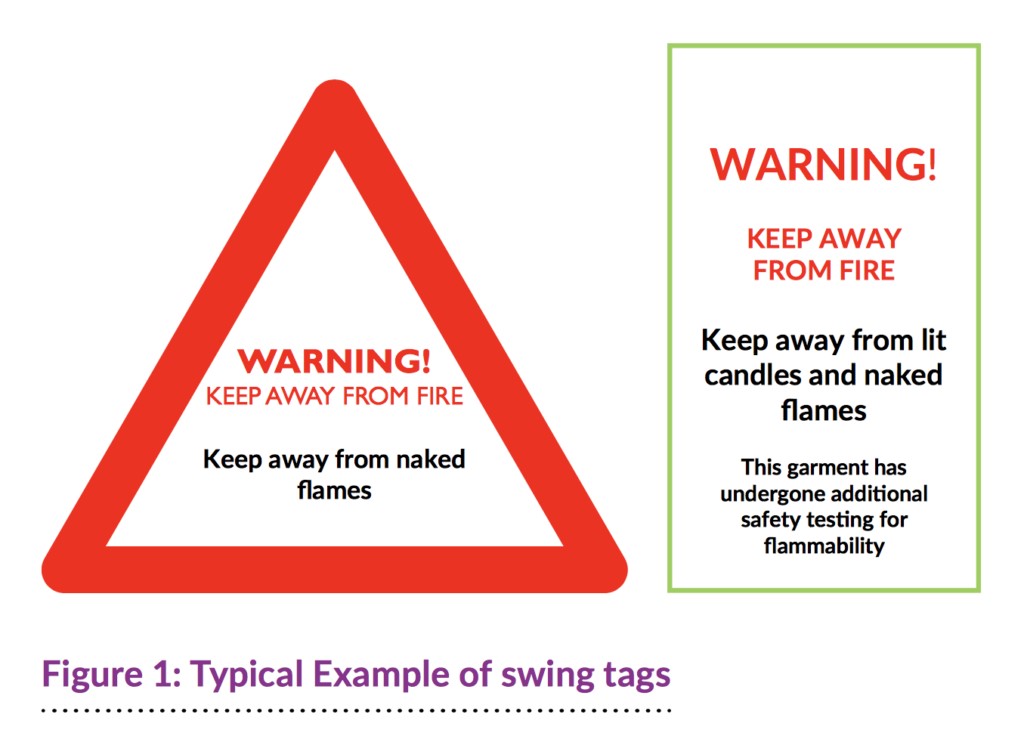 Also look for the CE safety mark. To spot if the logo is genuine, look at the middle line of the E which should be shorter than the other parts.
Check the packaging and labels contain the manufacturer's name or registered trademark and that there are safety instructions.
Avoid any costume that can trail or catch a flame.
You also need to be careful when buying online. Always read product reviews and check for any product recalls. The Trading Standards website is a good place to look. Despite the new safety label, the same tips apply to keeping your children safe around candles/fire over Halloween:
Put clothes on under your child's costume to provide another layer of protection – e.g. woollen tights or jeans (and ignore their complaints)
Switch to battery operated LED candles (they'll never know)
If you do light real candles keep them away from items which can catch fire
Put candles on a heat resistant surface
Never leave candles or a fire unattended
I always feel a bit of a kill-joy writing this kind of blog (don't get me started on Bonfire Night!) but by taking a few extra minutes you can have a safer (and therefore much happier) Halloween. For further information on the new safety standard, click here.
IDEAS FOR A SAFER HALLOWEEN
When it comes to cool and quirky Halloween decorations, pumpkin carving isn't the only way to go. Have you ever tried painting a pumpkin instead? There are some wacky ideas which have been trending in the States and now we are seeing these ideas here too!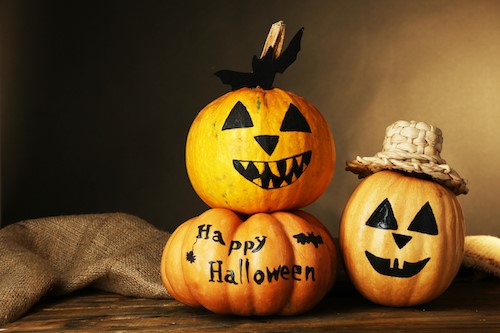 Much safer and less messy, is to paint your pumpkin face or be inventive by painting the whole pumpkin in tasteful gold or silver sparkly paint, or the faces of bright cartoon characters – You could make your pumpkin look just like Nemo or a spooky skeleton mask! Turn ordinary pumpkins into brilliant DIY decorations.
If you choose to carve in the traditional way then a safe alternative is to use battery-operated T-lights instead of candles to avoid any potential fire risk.
Bonfire Night follows swiftly on from Halloween. Take care with all those fireworks, bonfires and loud bangs!
For more useful information please visit Mini First Aid.