Interview by Sarah Turner
Rebecca Adlington OBE is a multiple Olympic, World, Commonwealth and European swimming medallist who was part of Team GB at the 2012 Olympic Games. Alongside being a BBC pundit, a patron of Women in Sport, a Slazenger swimwear designer and a reality TV favourite (I'm a Celeb 2013, The Jump 2016, Masterchef 2017), she is also mum to three-year-old Summer. I was lucky enough to grab her for a quick chat both about motherhood and her current work projects.
Becky, I've just read through all your professional achievements and I feel like I need a lie-down! Is there one moment in your career that stands out above the rest?
I'm so lucky, I have so many highlights and incredible moments. But the one I have to say just slightly tops it for me was Beijing Olympics, getting my second gold medal and breaking the world record. Beijing is where my success began, it will always be special. For me the 800metres was my favoured event and having won one gold already, I knew I was having a good week. My parents came out for my 800 too and for me, it was the sequence of events that happened once I had won. I touched the wall knowing I had won, but then looked at the score board to see WR flash up. It was a world record I NEVER thought I would get as it was 19 years old (as old as me at the time!). Then somehow, among 17,000 people the camera man found my mum and dad – I couldn't even find them in the stands! But they came up on screen so happy and crying. It was just a lovely moment, from GOLD to WR to my parents to turning to my coach Bill Furniss and the team. Still gives me goosebumps. It was simply perfect.
If I was as fast as you, I would be forever tempted to dive into the hotel pool on holiday, powering through the flamingo inflatables to show off a quick 400m Freestyle. Can you ever just go for a leisurely swim or do you always find yourself in competition mode?
I definitely can! I think I used up all my competitiveness. I now have no desire to compete or anything. I love taking Summer swimming now and it reminds me why I got into swimming in the first place. All about fun!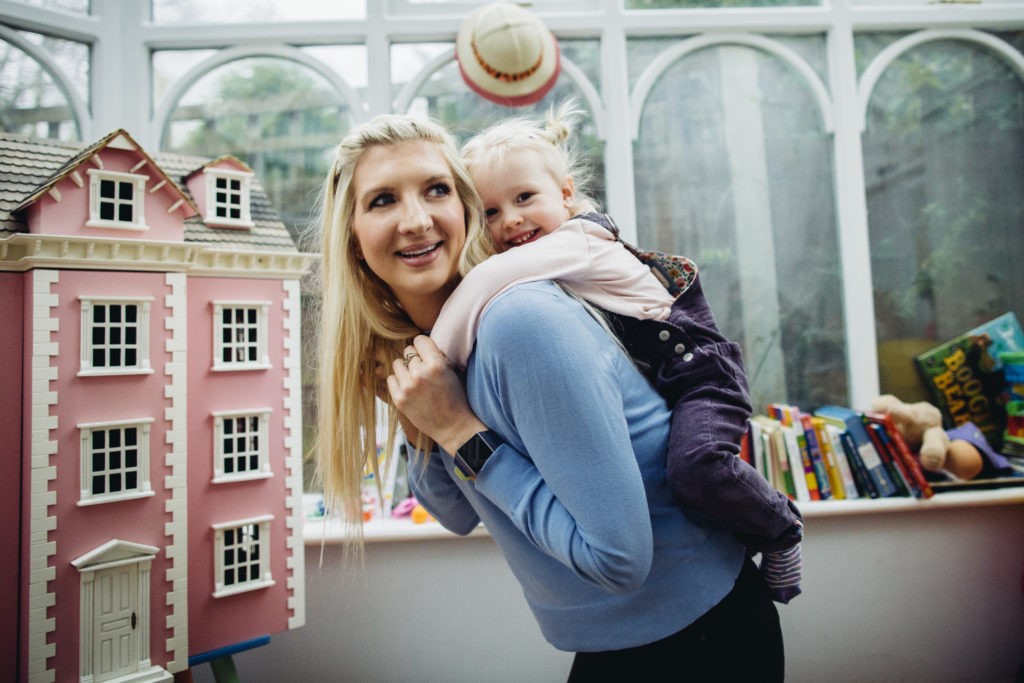 You're very passionate about children learning to swim – so much so, you've written your own learn-to-swim programme! Can you tell us a bit about SwimStars?
SwimStars has just been an absolute dream of mine for so many years. The motto at the London Olympics was 'inspire a generation' and I took that really seriously. Unfortunately, over 50% of children are leaving primary school unable to swim 25m, that's over 1 million children! That absolutely floored me when I heard it – we live on an island, you cannot live your life without coming across water. It's such an important life skill but many people just view it as a sport. For me, swimming is more than that. It's about confidence and fun while being active, all whilst learning a life skill. I'm so proud to say we teach nearly 10,000 children a week to swim.
Of the television shows you've taken part in, do you have a favourite? And what does Summer think about Mummy being on the telly?
I have loved every single TV show I have been on but for all different reasons. I'm a Celeb was so much fun and a once in a lifetime opportunity. I enjoyed Masterchef last year as I'm a massive foodie and really helped me learn so much too. My favourite is doing the BBC punditry of the Swimming Championships though. I get to work with a great team like Helen Skelton, Clare Balding and Gabby Logan, while being next to one of my closest friends Mark Foster. It's amazing and a privilege to watch the next generation of athletes and cheer them on! I hate being away from Summer but she loves watching. Whenever I speak to her afterwards she always tells me she loves my pretty dresses. She does moan at me for not waving back at her though!
At Mummy Social, we know that chatting to another mum can turn a dark parenting day into a bright one. How important has it been for you to have 'mum friends' you can turn to?
Mum friends have been my saviour. I'm lucky as I have two sisters and we have all got kids of similar ages, plus my best friend has a daughter ten months younger than Summer. I think sometimes parenting can be quite isolating and lonely, especially when they are really young, so it's been a massive help to have people to talk to going through the same things. Being a single parent and not the most naturally maternal person, it's really helped me – whether it's been to share something funny or to help me when I'm struggling!
You can find out more about Becky's SwimStars here.
Follow Becky on Instagram @beckadlington